May 6
Great news! We did a limited repress of the Bebe Fang tape! You can now order HERE
Also added a new distro item: The excellent 'Revox Tapes' by 'Wixel'. Take a listen and order HERE
January 7 2013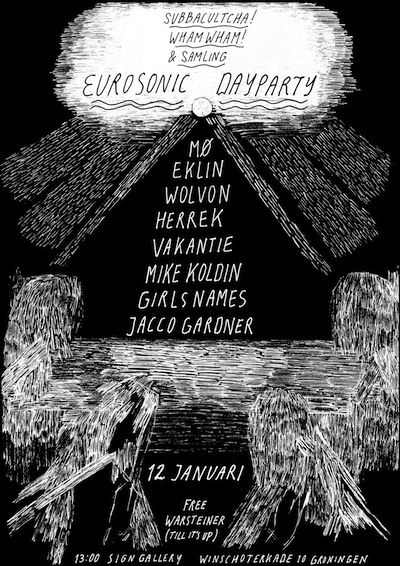 5th anniversary of our dayparty with Wham!Wham! and Subbacultcha!. And of course there is 'free beer till t'is up'.
November 6 2012
SAMLING NEON EDITION
During Le Mini Who? festival in Utrecht on december 1, we will transform the basement of De Kargadoor in a glowing 'space-cave'!
In the bar-section of Kargadoor, we will display our 'printed' section, a collection of screen prints by various visual artists.
These acts will be playing in the cave:
Gareth Davis & Leo Fabriek
Excellent Bass-clarinet-fronted free jazz that will let you float over dynamic nightly landscapes.
Herrek
New project from jack-of-all-trades and musical misfit Gerrit vd Scheer. This time he presents a dark and folky approach to capture his childhood years which he spent on Papua New Guinea.
Vakantie
"Vakantie from Groningen is giving our biography writers a damn hard time to find (translated, the band name means "Holiday"), but when finally coming across a Soundcloud page, their mix of ambient and psychedelic certainly triggered our curiosity." from Incubate.org
Spilt Milk
Late 19th /early 20th century modernist Wallace Stevens poems sung by Amsterdam youngsters and accompanied by Velvet Underground vibe sounds.
Starts: 2pm ends 5pm
October 4 2012
Tonight, the new release by Mere, will be presented at Winston Kingdom, Amsterdam. Be there and buy their great tape!
September 24 2012
We have some really great silk-screened prints available on 100 x 70 cm 300 grams Hahnemühle acid free paper. Featured artists are: Gijs Deddens, Thijs Kuijken, Astrid Florentinus, Wouter Venema, Beatrijs Dikker, Timon van der Hijden, Gerda Postma and Natasha Rosling.
Have a peek at our Printed Section
September 4 2012
3 acts from the Samling roster will be playing the lovely Incubate Festival Incubate Festival this year. LUIK, Mike Koldin and Herrek.

June 27 2012
Tonight, the new release OT301 by Mike Koldin, will be presented at Worm Rotterdam. The 33 minute long cd-r comes with a 28 page booklet with stills from live visuals by Wouter Venema. Now for sale at the Samling website.
June 16 2012
This Saturday at Nuit Blanche, Amsterdam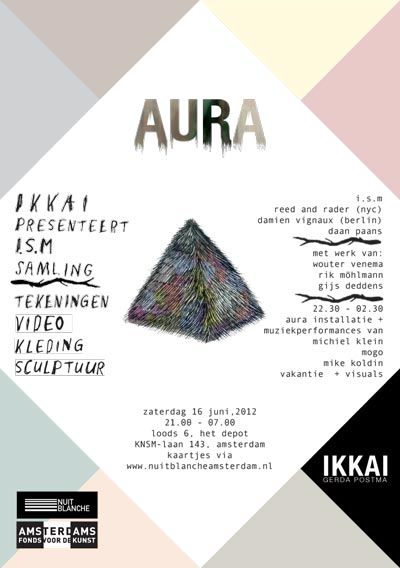 May 1 2012
Out now: FUTURE SHUTTLE - ÉTUDE STUDY TAPE
April 24 2012
Some nice pictures by Luik of a great day at Motel Mozaique.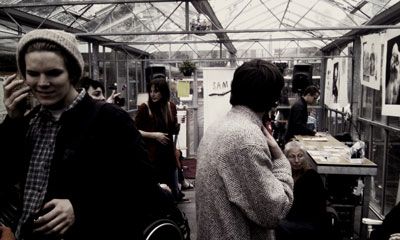 Samling PopUp-Shop @ Motel Mozaique
Samling has been asked to host a Samling PopUp-shop at the Motel Mozaique music & arts festival. It will take place on Sunday April 22nd between 11.00 & 16.00 at LijnBAR, Lijnbaan Rotterdam.
There will be a shop, listening corner, screenprinting on demand, live music and an exhibition !!
Acts:
- Hyenas 11.00-11.30 --------------------
- Herrek 14.00-14.30 ( www.herrek.bandcamp.com )
- LUIK 15.00-15.45( www.luikmusic.com )
Samling Printed
During Motel Mozaique Samling will present a new section: Samling Printed!
On irregular basis we will ask artists to present an artwork printed in edition: books, screenprints, lithos, linos etc. For Motel Mozaique we asked some friends to send us a work, we screenprinted everything in the same dimension and color. The screenprints will be exhibited at the Samling 'pop-up shop' during Motel Mozaique and will be available afterwards at the Samling Printed section on the web. Samling Printed is kindly supported by Mesh Printclub.
Screenprints by Natasha Rosling (UK), Thijs Kuijken, Wouter Venema, Gijs Deddens, Gerda Postma, Astrid Florentinus, Timon van der Hijden, Beatrijs Dikker and Jenny Lindblom (SE)
Also a new tape release is set to this day by the New York band Future Shuttle!


March 16 2012
New item has been added to distro-section:
Mike Koldin - 'room' tape


Februari 5 2012
Coming up next month: Future Shuttle Étude Study Tape


Januari 16 2012
'Lighthouse' a new short film by Wouter Venema will have its world première at IFFR!
The screening dates at Lantaren/Venster are:
January 26th - 20:15 - Lantaren/Venster 2
January 28th - 17:30 - Lantaren/Venster 2



Januari 3 2012
We'll be co-hosting (along with our friends from Subbacultcha! and Wham!Wham!Records) a day-party at Eurosonic/Noorderslag again this year.
It will take place on januari 14 @ Sign Gallery, Groningen.
Line-up: Woud, Hospital Bombers, Vakantie, LUIK, Thomas Azier (DE), A Classic Education (IT), Pinkunoizu (DK), The Wooden Constructions and Yuri Landman Duo.
December 6 2011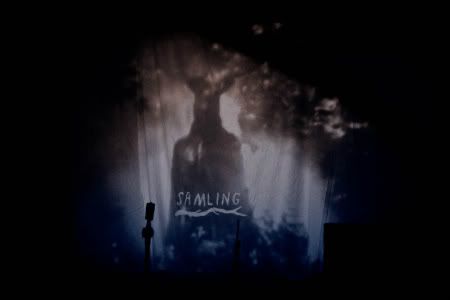 Pictures for Samling Label Day HERE


November 25 2011
New releases out now: Mike Koldin - Becloud tape || Eklin - Lapon/Tera single
November 14 2011

Samling Label Day @ Explore The North Festival, Leeuwarden


November 12 2011
Upcoming Future Shuttle tape hyped on Altered Zones
LINK TO ARTICLE


October 27 2011
Samling Label Day @ ETN 2011

Samling has been asked by the exciting festival Explore The North to organise a Samling-Label-Day. It will take place on Saturday November 26th in Leeuwarden, The Netherlands.
Acts confirmed so-far:
Islaja, Eklin, I am Oak (with exclusive Waves-set), Mike Koldin, Geneve, Gareth Davis & Leo Fabriek, Renee van Trier & Vakantie.
That day we will also present a new release on Samling which is the 'Becloud' tape from Mike Koldin. We will transform the former community-room of the old jailhouse in Leeuwarden into a moisty, eerie place...


September 28 2011
Out now: I am Oak - Waves II - VII tape


August 19 2011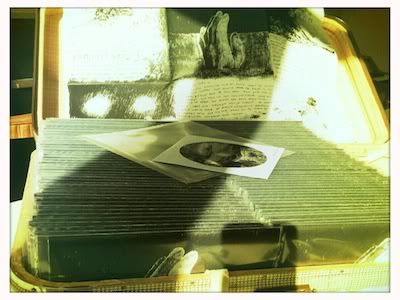 New releases out now!: Duizend - s/t + Genève - 1551
Interview with Genève (in Dutch).


Juli 15 2011
Hyenas performed at the Oerol festival 2011



Juli 7 2011
Coming soon: Duizend cd-r || I am Oak - "Waves" tape || "Grimsvötn" Flipbook by Anneke Nieuwdorp || Geneve cd-r


May 8 2011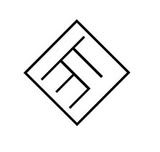 Terrible Music (a blog of the Enfant Terrible label from Holland) wrote some nice words on Samling and two of it's recent releases, that is the Woud Poster EP and Bebe Fang's selftitled tape.
Read the review HERE


March 25 2011
We are excited to announce that the DISTRO- SECTION is now officially online. Products featured in the distro-section are the two Eklin releases on Lowin and the full catalog of Wham!Wham!Records. We are currently working on the extension of the Samling Distro, so please be sure to check in regularly.


March 15 2011
Our friends at Ducktape Records have recently released a beautiful mixtape featuring int.al. Bebe Fang and Eklin. The mixtape is called Kosmic Summer. More info HERE


March 1 2011
The Woud poster-ep will be officially released on March 12 during their live-show at De Nieuwe Anita, Amsterdam
See you there!


Februari 10 2011
Coming up on Samling: Woud poster-ep.
For a preview check the The Woud Site on Samlingrecordings.com


Januari 20 2011
by&by from LUIK .


Januari 15 2011
Samling & Subbbacultcha! & Wham! Wham! Eurosonic Day Party
ft Star Slinger, Austra, Vondelpark, The Moi Non Plus, Eklin, Bebe Fang, Luik, Herrek + Free VEDETT beer from 13.00 - 15.00 !
==================
Coming January the Eurosonic Festival is kickstarting the new year for pretty much the entire European music industry. This will also be the ////official\\\ label release party of Samling Recordings.
We decided to team up with our friends from Wham!Wham! Records and Subbacultcha!, head down to Groningen and throw another one of those un-official yet thoroughly awesome day-parties.